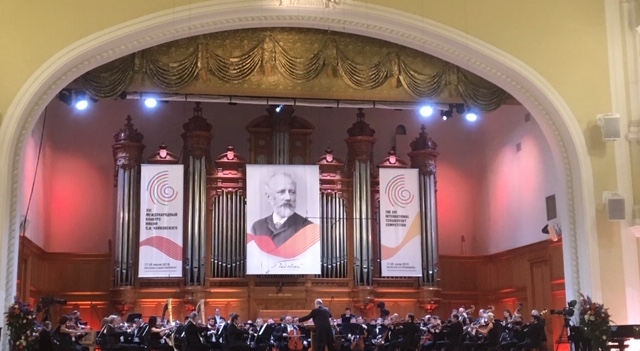 Xie Ming strides onto the stage with an air of confidence. The hall is full, a dozen cameras are rolling for the worldwide TV broadcast, commentators are finalising their ideas in hush tones on the balcony, photographers jockey for the best positions in the hall and back stage, ushers are giving killer looks to the people still moving around, judges, who have been individually announced and applauded, at the ready and Beethoven begins to fill the hall.
After the second competitor there is a short break as the pianos is moved again and the technicians have chance to do a quick check. Backstage there is pandemonium as well-wishers, organisers and journalists throng into the narrow corridor and staircase to catch a glimpse of the competitors and grab a selfie or a comment. Only 20 minutes and the fanfare is played in order to usher in the audience. Outside there is the usual discussion amongst the audience, was his Bach genuine? How about the Chopin etude? Was it too fast? What about that 'other' piano? How did it compare?
The contest continues till late into the night and its now our turn to manage the pianos.
https://www.themeandvariations.com.au/pages/wp-content/uploads/2019/06/IMG_3699.jpg
480
640
Simone Spiropoulos
http://www.themeandvariations.com.au/pages/wp-content/uploads/2018/07/gold-logo1X.png
Simone Spiropoulos
2019-06-27 13:22:37
2019-06-27 13:22:45
Tchaikovsky Competition - Day 1, the competition begins