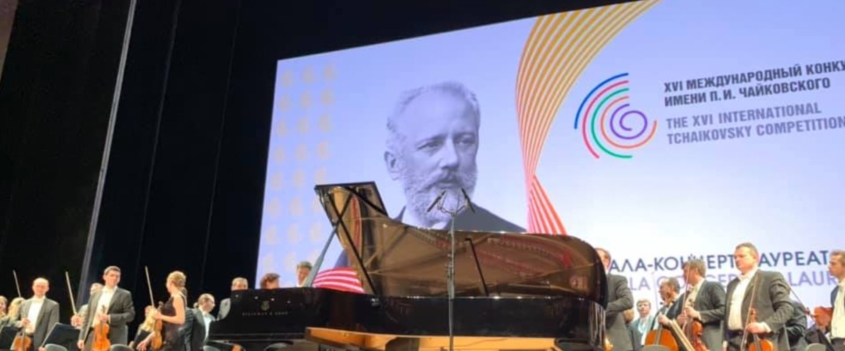 The judges file into the concert after about 1.5 hours of deliberations to make the winners announcements.
7 FINALISTS!
Returning to hallowed grounds in the Moscow Conservatorium, Tchaikovsky Concert Hall with a surprise announcement! No placements were awarded to 5,6 & 7th place as the calibre of musicianship was so high.  Adding to history, instead 4th place was given to An Tiaxu, third place was awarded to Broberg, Melnikov and Yemelyanov and equal second place winners were Fujita and Shishkin
First place was awarded to French pianist Alexandre Kantarow, a stunning end for France to win this prestigious title.
An Tianxu also received an additional bravery award for the controversial announcement mix-up of his concerto performance.
The prize winners were surrounded by overjoyed emotions, tears from girlfriends, wives, teachers, parents and lots of hugs and high fives from fellow performers.  Most notable are the more than a dozen officials encapsulating An, like a swarm or a media frenzy as this will be a major marketing opportunity for piano maker Yangsi River back in China.
This celebration followed late into the evening with a very lavish dinner at the Mouravieff-Apostol House and Museum hosted by special guest Maestro Valery Gergiev and other notable dignitaries in the 'Marble Palace' – this goes on until 4am!
but wait there's more!
A colourful prize giving event in a beautiful old palace where the media was not only presented with the piano prize winner, but all the prize winners from each competition category, who arrived from St Peterberg. There were at least 50 media, 20 cameras and everyone with a microphone edging towards someone with a prize.
Valery Gergiev must have a twin as he is awfully busy with having to conduct during the Festival of White Nights – the Ballet Giselle in St Petersburg's Marinsky main stage theatre, then onto Marinsky Theatre II in the afternoon for the Gala evening.  We all magically arrive to attend The St Petersburg Gala concert event in the Marinsky.
The winner's night of nights Gala concert in St Petersburg quickly proceeded in the Marinsky Theatre Hall!  In typical style there is no programme and the musicians are all in the dark as to who will be playing and what they will be playing. The Gala is an exciting and heart palpitating affair in the city of White Nights with Gergiev conducting – showing his dynamism and control, with various finalists and non-finalists being given an opportunity to perform with the Marinsky Orchestra. The concert goes on for 4 hours and finishes with a 1pm "Finale"
In a dramatic finish Kantorow was declared the overall winner across all the competition categories – voice, brass, violin & cello to name a few.  Kantorow is French and doesn't understand Russian, he is ushered onto the stage and given a huge bouquet of flowers and medal – but doesn't actually understand, as the announcement is only made in Russian.  In a shocking realisation it all dawns on him, after rapturous applause as he comes off the stage!
He has just won the grand prize and a prize pool pf $100k!
An amazing, brilliant, sometimes manic, mostly cleverly disorganised but finally fulfilled event that there is no comparison and shouldn't be.
This is Russia, Moscow and St Petersburg major events are done in classic Russian way!
Signing off with love from the 16th Tchaikovsky competition.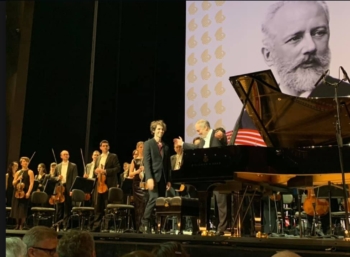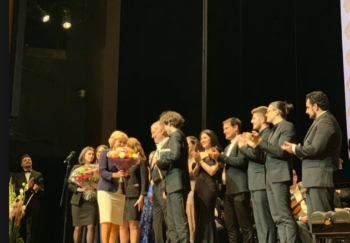 https://www.themeandvariations.com.au/pages/wp-content/uploads/2019/07/moscow.jpg
1093
1964
Simone Spiropoulos
http://www.themeandvariations.com.au/pages/wp-content/uploads/2018/07/gold-logo1X.png
Simone Spiropoulos
2019-07-11 23:37:25
2019-07-11 23:41:42
The finals are over and with much celebration!