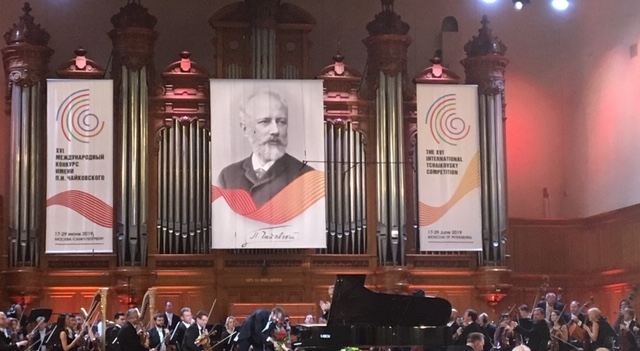 The second round starts. This time the competitors have an hour to impress the judges.  Backstage the next competitor hammers away in the warmup room, the men in white coats and gloves shuffle around the 5 pianos as they are to be used and the announcer 'sings' his way through the names and programme about to be played. Stage manager at the ready to give a final nod to the competitor as she opens the door to the stage. She is always well dressed, groomed and ready with an encouraging word and smile. Two cameras at the ready backstage to capture every emotion and expression as the competitor heads back for the next bow. The audience in ever enthusiastic, calling back each player at least 3 times with even a 4th for some.
At the end of the second day again the judges come back after an hour and this time there is huge controversy as many of the favourites are knocked out. Instead of 6 finalists a 7th is also added but the controversy continues. The judges are whisked away and avoid any discussions with the audience and competitors. An even greater discussion emerges and detailed analysis as to why certain players were included against those who should have been in. Most of the competitors who missed out are in no mood to speak to media, even this is documented.
Piano technicians and officials for the various makers can be seen in deep discussion with the remaining competitors making sure there are no defections. Out of the 7 players 4 have chosen the Steinway and one each for Yamaha, Kawai and Yangtze River who have their own media contingent and even larger official group than the traditional groups from the Japanese makers.
Overnight we each have 2 hours to work on the pianos before the two days of rehearsals. Major changes are considered for the piano setups as they need to be made to be heard against a large Russian orchestra. Previous experience shows that this is usually overdone and may need to be slightly reversed!
https://www.themeandvariations.com.au/pages/wp-content/uploads/2019/06/IMG_3703.jpg
480
640
Simone Spiropoulos
http://www.themeandvariations.com.au/pages/wp-content/uploads/2018/07/gold-logo1X.png
Simone Spiropoulos
2019-06-27 13:41:56
2019-06-27 13:44:44
Tchaikovsky Competition - Round 2 begins!